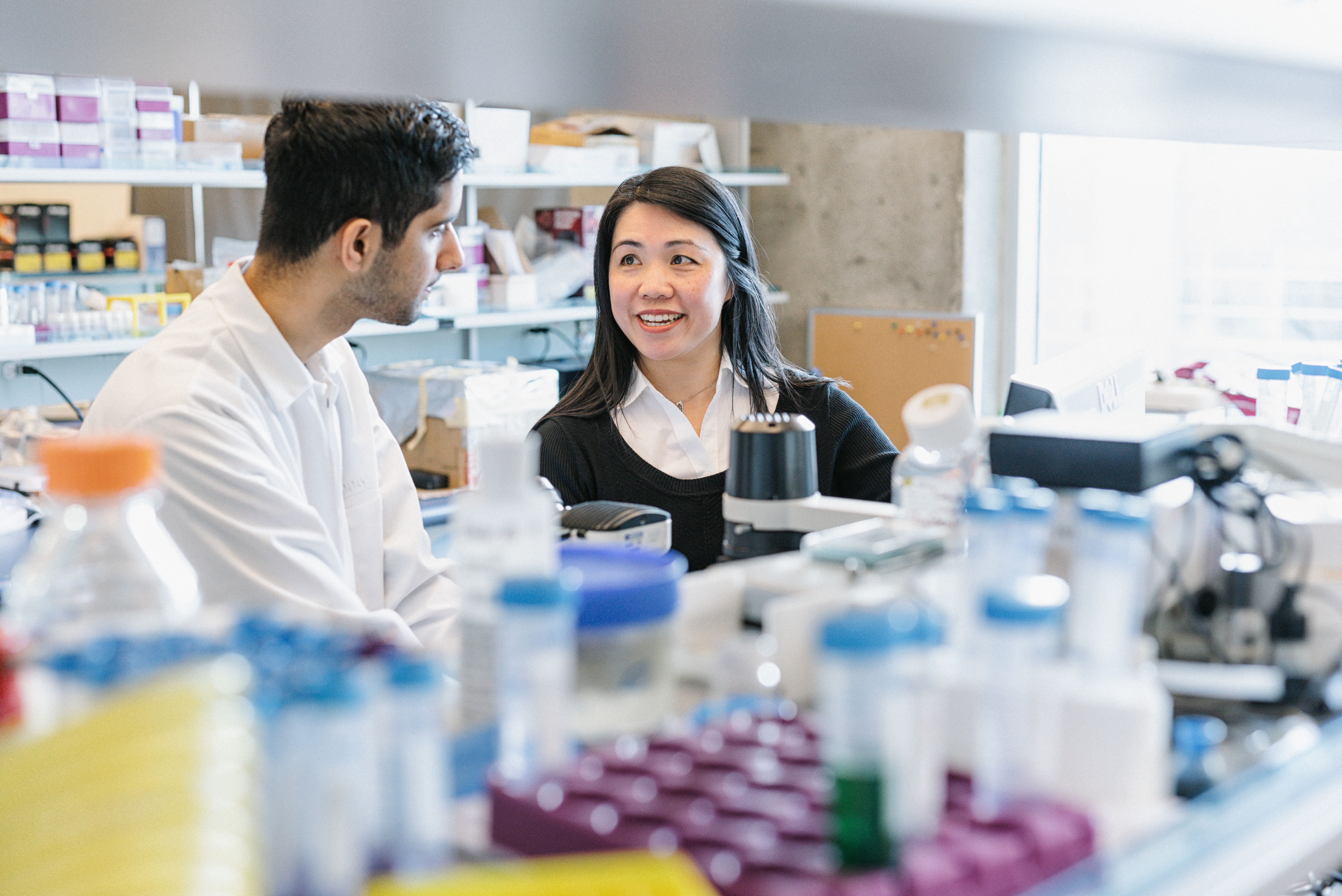 Are you interested in how engineering, medicine, life sciences, computer science, and mathematics work together to solve health problems? Do you want to help transform people's lives? Biomedical Engineering at UBC could be the right program for you.
What is Biomedical Engineering? 
Biomedical engineers work where biology, mathematics, computer science, and chemistry meet to solve the challenges of human health and healthcare. Using the engineering principals of design thinking and problem solving, they develop new technologies that enable doctors, therapists, biotech companies, and researchers to improve human health.
Biomedical Engineering innovations touch every aspect of our lives. Regenerative cellular therapies, ultrasound images that give us the first glimpse of our children, time-release drugs that allow us to sleep through the night, lifesaving cardiac stents, high-performance robotic surgery, and devices that improve access and mobility for everyone are just some of the transformational developments to come out of the Biomedical Engineering field.
What will you learn?
As a Biomedical Engineering student at UBC, you'll take specialized courses to help you build a unique foundation in engineering, biology, math, chemistry, anatomy, physiology, design, and the healthcare system. In your third year, you'll have the chance to customize your degree based on your interests. You can choose from four different streams:
Biomechanics and biomaterials teaches you about applying classical mechanics, and how to solve biological problems by viewing the body as an engineered structure.
Cellular and molecular bioengineering lets you apply engineering principles to cellular and molecular biology. You'll focus on developing cell-based therapeutics in regenerative medicine and drug delivery.
Biomedical systems and signals helps you learn about the processes that produce and transform signals in biological systems, and the way that these signals are translated by the body.
Biomedical informatics and systems biology lets you explore genomes and patient healthcare information using math and data systems such as machine learning.
Through traditional classroom instruction, hands-on studio time, co-op opportunities, and lab work, you'll graduate with a deep knowledge of biology, human anatomy, and physiology, and understand how to combine it with engineering design. After finishing your studies, you'll be ready to work across a range of life science-related jobs, such as designing biomedical devices or pharmaceuticals, or working in fields like medical diagnostics or clinical engineering. These opportunities range from academia to hospitals or working within Canada's world-leading Biomedical Engineering industry.
The student scoop
Meet Nadine, who is learning how to design treatments at a molecular level to help cure patients' illnesses.
What makes the program unique?
Learn in-demand skills. Vancouver is home to over 300 life sciences companies – many of which are ranked in the top 100 technology companies in Canada. Globally, too, there is an increasing call for engineers with biomedical training, with the US Department of Labour Statistics estimating that the number of jobs for Biomedical Engineers will increase by 27 percent over the next three years.
Discover each topic in depth. Although UBC's Electrical Engineering and Mechanical Engineering programs both offer an introduction to biomedical engineering as a specialization, the Biomedical Engineering degree provides a much deeper level of knowledge, suitable for entering the industry or academia. When you graduate, you'll be accredited as a Biomedical Engineer by the Canadian Engineering Accreditation Board (CEAB).
Prepare for a fulfilling career.Many Biomedical Engineering graduates go on to medical school, research or advanced degrees, or start their own businesses. For those who choose employment, you'll be ready for a job in biotechnology companies, biomedical device companies, diagnostic companies, e-health companies, hospitals, government research facilities, or in areas outside life sciences. You'll work on exciting projects like developing cellular therapies, artificial organs, prosthesis, diagnostics, biomedical devices, instruments, and new safety devices.
Gain work experience while you study. Co-op Education provides the opportunity for you to gain paid, full-time experience in a variety of work settings, test out possible career options, and begin building a professional network – all before graduation. You'll benefit from a variety of support workshops, one-on-one coaching, and work experience relevant to your future career goals.
Work on a real-life project. One of the program's final courses is a real-world design project, which will challenge you to apply the skills you've learned to an open-ended problem in biomedical engineering. You'll work in small teams under the supervision of a faculty advisor or a practicing professional engineer from the industry, and be tasked with designing a new device or technology to solve some of today's toughest medical problems.