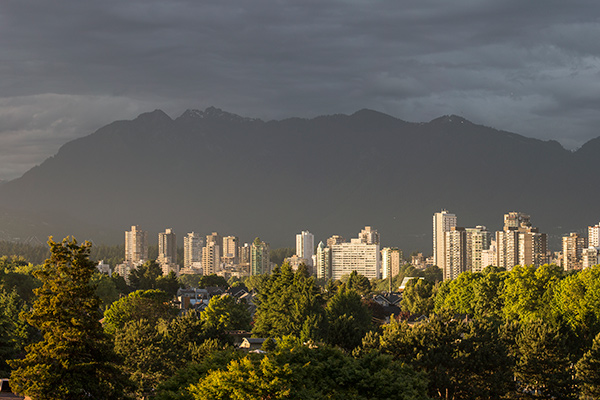 Are you looking for a science-based degree that challenges you academically, provides exciting opportunities to enrich your university experience, and opens the door to a breadth of in-demand careers? UBC's Faculty of Forestry – ranked top three in the world – has six programs that span topics from wood engineering and sustainability to soil science and urban planning.
No matter which Forestry program you study, you'll be part of a diverse, close-knit community where faculty get to know their students by name, and where you have ample opportunities to dig deeper into your specialization with research, travel, and unique classroom experiences.
Bachelor of Science in Forest Sciences
If you have an inquisitive mind and want to unravel the mysteries of nature, Forest Sciences is an ideal program for you. You'll study the scientific principles related to the growth and development of forest organisms and the ecology of plant and animal communities. This knowledge will help you better understand aspects of our forests such as wildlife, fire, insects, diseases, soil, tree genetics, and forest regeneration.
"I like the flexibility in terms of choosing what topic within Forest Sciences that I can focus on. There are suggested specializations, such as hydrology or entomology, but I'm also able to choose a topic that I'm interested in. There is a specialization in International Forestry, where students are required to spend time abroad and learn about forest ecosystems in a global context."

–Jennifer Hong, alumna, Forest Sciences
Learn more about Forest Sciences
Bachelor of Science in Forestry
The interdisciplinary Forestry program combines biological, physical, and social sciences with technology to advance your understanding of sustainable forest management. Among other areas, you'll develop your knowledge in topics spanning forest planning and management to the operational aspects of extracting timber. You can choose from two majors – Forest Resources Management or Forest Operations – which are both accredited by the Canadian Forestry Accreditation Board.
"I decided to go into Forest Resources Management at UBC because I love being in the forest. I am extremely passionate about protecting our natural resources and managing them properly. It has given me the opportunity to learn to manage B.C. forests in a sustainable manner. The field schools provide a safe outdoor learning environment that allows students to apply their skills prior to working in the industry."

–Thomson Kennedy, 4th year, Forest Resources Management
Bachelor of Science in Natural Resources Conservation
Have you ever considered becoming a conservation scientist? Do you want to play an active role in protecting and managing our natural environment, such as wildlife, forests, rivers, oceans, and land? In Natural Resources Conservation, the faculty's most popular degree program, you'll learn about the maintenance of habitats and the persistence of diverse natural resources, and gain a better understanding of the balance that is needed among environmental, social, economic, cultural, and aesthetic values.
"The Natural Resources Conservation Program will give you the skills and knowledge to meet the big challenges our world is facing right now. It will help you think holistically about how different disciplines can come together to solve our biggest environmental challenges and achieve a balance between our increasing needs for goods and services and the protection of our ecosystems."

–Valentina Coy, 3rd year, Natural Resources Conservation
Learn more about Natural Resources Conservation
Bachelor of Science in Wood Products Processing
If you're an innovative thinker who loves to tackle problems, you'll enjoy the blend of science, engineering, and business in the Wood Products Processing program. You'll gain a broad understanding of wood science, business, and advanced manufacturing operations while you develop essential transferable skills such as problem-solving, communication, leadership, and teamwork.
"If you are interested in building a successful professional career in an innovative, creative, and sustainable industry, then the Wood Products Processing program will provide you with a strong foundation. The faculty offers a strong co-op program, a positive tri-mentoring program, and a range of leadership-building classes."

–Jonathan Jean-Hwa Chu, 4th year, Wood Products Processing
Learn more about Wood Products Processing
Bachelor of Urban Forestry
The Urban Forestry program – the first of its kind in Canada – teaches you about planning and managing urban green spaces and ecosystems for human welfare, ecological health, and the protection of our cities' support systems. You could learn how to tackle the problems arising from increased urban populations and global warming, and help create more sustainable and greener communities.
"The Urban Forestry program at UBC was an unforgettable experience that has opened many doors for my career. The program gave me the ability to balance an urban lifestyle while pursuing my passion for the outdoors. I was amazed at how quickly I met friends with similar interests and how quickly professional opportunities emerged through the forestry community. When I was just getting started, I quickly realized that the industry is buzzing and that the skills I was learning were in high demand. The design aspects of the program allowed my ideas to come to life and curated a set of practical skills for producing green sustainable landscapes. My favourite part of the urban forestry program was solving real-life problems by using green design, making cities more liveable. The integrated foundation of traditional forestry, landscape architecture, and design makes the urban forestry program the most competitive degree in the expanding greenspace management industry."

– Reginald Daniel, Alumnus, Urban Forestry
Learn more about Urban Forestry
Forest Bioeconomy Sciences and Technology (BEST)
Want to help lead the world's shift from fossil fuels to sustainable sources? The BEST program is the faculty's newest BSc degree and the first in Canada to focus on the growing bioeconomy – the parts of the economy that involve producing renewable biological resources and transforming them into valuable products. You'll learn how to design and develop innovative products and biofuels from forest and plant materials, as well as guide government policies and land use strategies for a sustainable future.
"Starting this September, the BEST program will enrol its inaugural class, learning the sciences required to address the global challenge of combatting climate change using biobased alternatives."

-Dr Scott Renneckar, Program Director Forestry Bioeconomy Sciences and Technology
Learn more about Forest Bioeconomy Sciences and Technology
Co-operative education opportunities
Completing a co-op is your chance to get real-world experience, make an average salary of $3,133 per month, and begin building your professional network. All six Forestry programs offer co-ops so that you can learn about possible careers and jobs in your field of interest. UBC Forestry students have completed co-ops at companies like West Fraser, Interfor, and J.D. Irving, as well as local municipalities, the provincial and federal governments, UBC's Advanced Renewable Materials Lab, Pioneer Forest Consulting, and many more.
Check out the Forestry co-op Instagram account to see the kinds of experiences UBC students are gaining as they get their hands dirty in labs and forests, and travel as far as South Africa, India, Indonesia, Japan, Finland, and Germany. Plus, you can read students' stories about their work terms.