About this blog
Our dedicated admissions and financial advisors will help you through the application process by writing about admission requirements, financial matters, the application, events and visits, and everything in between.
By Paola Baca on November 20, 2015
If you are a high school applicant from Alberta, Manitoba, Saskatchewan, or the Maritime provinces, you will be asked to upload a transcript of your grades and courses to the Student Services Centre (SSC) after you submit your online application. In this post, I will give you a few tips on how to prepare your documents before uploading them. You'll find detailed information on when to submit your documents and how to submit your documents on our website, and you will receive an email from us when we are ready for you to upload your documents.
You will need:
Your most recent high school report card.
All grades for completed grade 11 and 12 courses.
A list of courses in progress (with or without interim grades).
Document format and size
Your transcript or report card must be uploaded in PDF, TIFF, or JPEG format, and must not exceed 2 MB.
Your list of courses in progress does not have to be an official document (this can be a list that you have typed up yourself).
Please do not also mail in a paper copy of your transcript/report card at this time. Doing so can slow down the review of your application.
If you have any questions, please email admissions.inquiry@ubc.ca. Please include your full name and UBC student number.

Image: Daria Nepriakhina
By Craig Kingsep on November 6, 2015
If you're applying to the Sauder School of Business's Bachelor of Commerce (BCom) program, your Personal Profile will include a video interview section. You'll provide on-camera responses to two pre-recorded questions.
Why is the video interview important?
In the BCom program, collaboration, in-class discussion, and public speaking are daily activities. Your ability to communicate clearly by verbally articulating your thoughts and ideas is essential to your success, and in many cases, the success of your team during group work.
If you're intimidated by the thought of speaking on-camera, don't worry. The questions will relate to your personal experiences and opinions, and there are no incorrect answers. The video interview is a great opportunity for you to showcase how you can think critically, perform under pressure, and stand out from other applicants.
How to create your video interview
Within your Personal Profile, you'll be directed to a separate online video-interview platform through which you'll test your recording equipment and try a practice question before recording responses to two pre-recorded interview questions. You'll only have one attempt to respond to each question. Once you've started to view a question, you won't be able to pause or replay it. You'll be given 30 seconds to think about your answer, and then up to 90 seconds to record it.
Tips for creating your video interview
Create the best recording space possible. Make sure there's good lighting in front of you; silence all audible alarms and alerts; eliminate loud background noises; and stay free from other distractions.
Take time to reflect. To prepare, think about your past challenges, achievements, strengths, and beliefs.
Be confident. Maintain good posture, smile, and present yourself professionally. You'll find these simple actions will put you in the right mindset to more easily and naturally deliver your responses.
Don't dwell on mistakes. Natural speech isn't always perfect – the occasional "umm" or mispronounced word is to be expected. If you misspeak during your response, take a moment, breathe, and keep going. Remember, you have only one attempt to answer each question – there are no do-overs.
Be authentic. One of the reasons we've incorporated the video interview into your application is to be able to get to know you better. Don't tell us what you think we want to hear; tell us what you want us to know about you.
We look forward to getting to know you better. Good luck!
By Paola Baca on November 6, 2015
Many of you have started working on your online application to UBC – fantastic! It's good to start early so that you have time to reflect on your answers to the Personal Profile section of the application. The Personal Profile asks you four to seven questions about challenges you have overcome, significant achievements in your life, your academic pursuits, and what you have learned from these experiences. The questions are based on the program to which you have applied, so starting your application will allow you access to your specific questions.
Do you need to record a video interview?
If you are applying to the Sauder School of Business's Bachelor of Commerce program, you will also be asked to provide video responses to pre-recorded interview questions. Read our detailed tips on creating your video interview.
How do we assess your profile?
When we evaluate your application, two different UBC readers will assess your Personal Profile. We use your academic average and Personal Profile assessments to make an admissions decision. Watch the video below for tips on putting forth a strong profile, or read more about the Personal Profile.
Not all applicants are required to submit a Personal Profile, and others will have separate supplemental applications, portfolios, and auditions. To find out if your program requires a Personal Profile, start the online application and follow the instructions. If you have not started working on your application, we encourage you to start as soon as possible to make sure you have everything you need to submit your application on time.
Learn more about the Personal Profile in an online info session
We will be hosting online information sessions on the Personal Profile portion of the UBC application. To register, go to our Online Info Sessions page and click on a Personal Profile Information Session under You are a Canadian student or Permanent Resident student in Canada. Recordings of these sessions will also be posted here for your reference.
By Hung Mai on November 4, 2015
It's a wonderful time of year to visit our campuses – the temperatures have cooled down, the leaves have started turning, but the rain and grey weather haven't quite settled in yet. If you're in Vancouver or Kelowna and have questions you'd like to ask us about applying to UBC, feel free to stop by the Welcome Centre in Brock Hall (on our Vancouver campus) during our regular hours, or drop by University Centre Room 222 (on our Okanagan campus) on Wednesdays from 9:00 am – 4:30 pm or Thursdays from 10:30 am – 4:30 pm.
Visit us in an online info session
We know that not all of you will be able to visit us in person, but that doesn't mean we can't answer your questions. We have plenty of online information sessions coming up for domestic and international students to help you prepare for your application to UBC. These sessions will require an account, so take a few minutes to sign up for one if you haven't already done so.
Whether you plan on joining us in person or virtually, we look forward to connecting with you!
By Paola Baca on September 16, 2015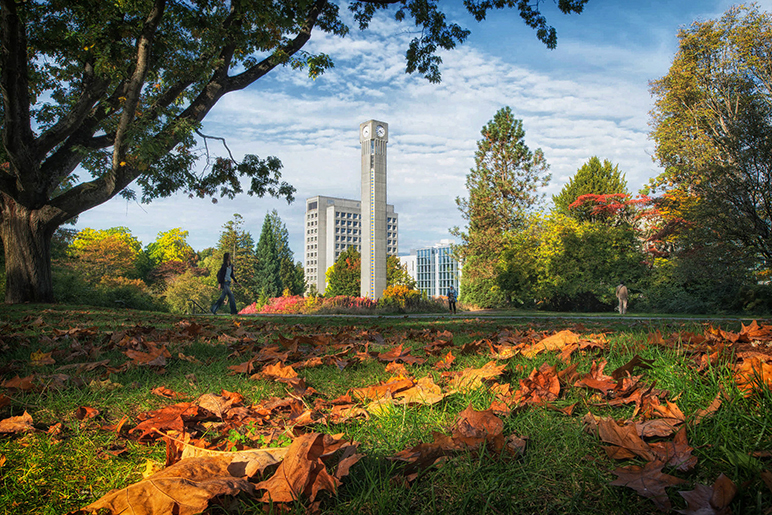 The trees are beginning to change colour across our Vancouver and Okanagan campuses and there's that special fall feeling in the air: it's a time for new beginnings, new plans, and it's also a great time to start your UBC online application.
Begin by reviewing how to apply and check out our helpful online application tips. Then, follow these steps: