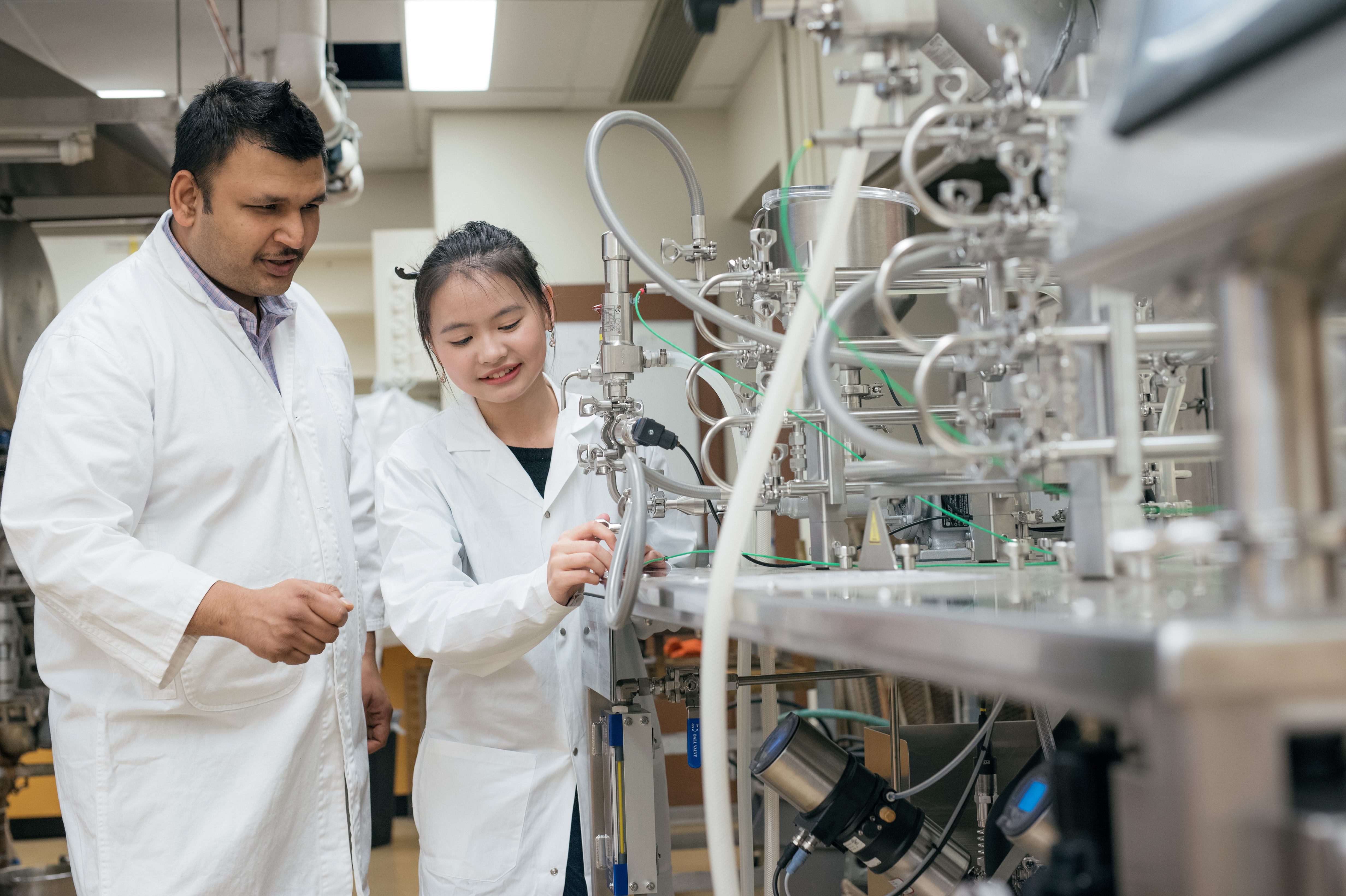 Do you want to use your passion for science to make a difference? Do you want to put the power of land, animals, food sciences, and nutrition to work for a better world?
The Faculty of Land and Food Systems at UBC is one of the world's top-ranking Faculties in sustainable agriculture, food systems, and human health as it relates to food and food production. It ranks highest in Canada and #18 among the world's top agricultural sciences programs. There is no other Faculty like it, anywhere.
Solving global problems
Programs in the Land and Food Systems Faculty address many world challenges through both teaching and research. You'll explore the demands that humans place on our climate system and natural resources, and study ways to contribute to solving those issues.
Depending on which program you choose, you could work on ideas of how to end hunger and achieve food security, or discover the best ways to promote urban agriculture within cities. You could explore strategies to promote nutrition and wellbeing to help create healthier communities all over the world, or help develop the sustainability of our food sources.
A Land and Food Systems program is a science degree with a social impact.
LFS is a great Faculty to get involved in by working in collaboration with students in all programs and between Faculties in order to combat local and global issues.

– Melanie Liu, Bachelor of Science in Food, Nutrition, and Health (Dietetics major)
Your student experience 
Programs in the Land and Food Systems Faculty are known for their hands-on approach. You'll enjoy smaller class sizes – meaning you'll create meaningful and personal connections with your professors as well as your classmates – and you'll network with people in your field throughout your degree. As part of your program, you'll take part in fieldwork and lead your own research, helping you to build career-ready professional skills.
You'll study alongside other students who are dedicated to using science to meet society's urgent needs, and are enthusiastically exploring how humans interact with the natural world. Land and Food Systems is known unofficially on campus as the "friendly Faculty", and you can expect to join a tight-knit and passionate community.
If you are looking for a smaller Faculty that feels comfortable, down to earth, and encourages eating a lot of food, LFS is the place for you too.

– Chelsea Harris, Bachelor of Science in Food, Nutrition, and Health (Food Science major and Fermentations minor)
What can you do after graduating?
You'll emerge from your program as a global citizen who understands how better food systems can be used to dismantle social barriers and create equality. You'll finish your degree ready for further study in disciplines like medicine, veterinary medicine, or dentistry, or primed to put your skills to work in the food and nutrition or agricultural sectors, government advising, and many more.
Graduates from Land and Food Systems programs have gone on to become the chief scientific officer with the British Columbia Prevention of Cruelty to Animals (BC SPCA), food product developer for Heinz, and executive director and head farmer at an urban non-profit farm.
Programs you can study
Bachelor of Science in Applied Biology
Sustainable Agriculture and Environment
Bachelor of Science in Food, Nutrition, and Health
Bachelor of Science in Global Resource Systems
Bachelor of Science in Food and Resource Economics
Find out more
You're invited to meet and learn from staff, students, and professors from the Faculty of Land and Food Systems. Join us for Taste of LFS, a series of online info sessions and interactive workshops that will help you to discover more about what makes degrees in the Faculty of Land and Food Systems unique, and whether it's the right place for you. Taste of LFS runs from November 22 to November 26.
Find out more and register here.